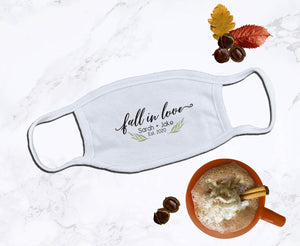 Custom Face Mask: Fall in Love Laurel
Priced Per Mask

How to order:
1. Please select how many masks you will be ordering from the "How Many Masks" range drop-down.
2. Select the exact quantity desired from the quantity dropdown.
Example: If you are ordering 40 masks, choose "26-50 Masks" from the first drop-down and change the second quantity dropdown to 40.
3. Enter any necessary information into the personalization area.
4. Check your email for a proof to confirm design.

Material: 100% Cotton
Non-Medical Grade
Size: Adult One Size Fits Most
Washable and Reusable, Hand Dry Recommended
Comfortable for All Day Use

Return Policy: For health and safety reasons, face masks are not returnable and not refundable.

We DO NOT represent our items as medical grade devices. Face masks are not to be used in place of any medical devices or personal protective equipment.
Printed in the USA. 

---
Share this Product